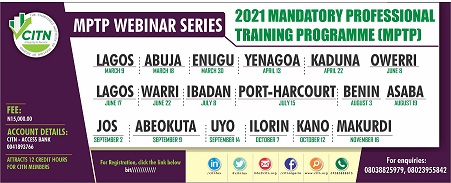 MANDATORY PROFESSIONAL TRAINING PROGRAMME (MPTP) OBJECTIVES
The essence of MPTP is to continuously update and enhance the technical skills and competencies of Tax Professional through training programmes provided at affordable fees.
The principal objectives of the Mandatory Professional Training Programme are as follows:
Provide access to continuous update of technical skills of Tax Professionals
Maintain the knowledge, skill and ability to provide quality service
Enhance the productivity, efficiency and skills of members
Keep members abreast of current developments in tax policy, regulations and guidelines
Provide members with knowledge that will help them maintain and develop their expertise
Encourage members to uphold the ethical standards of the profession and employ an ethical approach to discharging their duties
STRATEGIC FOCUS FOR 2021 MANDATORY PROFESSIONAL TRAINING PROGRAMME (MPTP)
Recent global developments have revealed the risk and fragile nature of the socio-economic world order, where a single incidence (virus) can throw the world upside down and take away liberty and freedom hitherto taken for granted, crashing economies and disrupting business flows with its attendant impact on finance, revenue and taxation. Locally, other challenges have contributed to plugging the nation into another round of economic recession. The Government on its part has been coming up with tax innovations, legislative reviews and policy statement to curtail this fall and stabilize the economy. All these have a direct or indirect impact on tax administration, collection and management which places a high challenge on tax professionals.
The strategic focus of the 2021 MPTP is on business disruption as they affect taxation, tax planning and management under restricted operations, assets loss and destruction as well as other security challenges, and enhancing members skills to deliver value-added tax advice and survival planning strategies to their clients and employers as we move into the new normal.
Therefore, MPTP topics have been carefully selected to achieve this objective