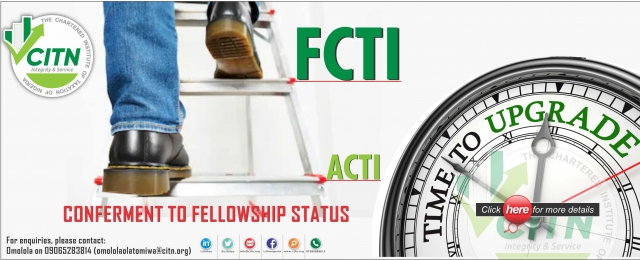 SPECIAL ATTENTION TO MEMBERS OVER FIVE (5) YEARS OF ASSOCIATE INDUCTION AND YET TO BE CONFERED TO THE FELLOWSHIP STATUS OF THE INSTITUTE!
It's Time To Get Upgraded - Conferment Of Fellowship
WE ARE PLEASED TO LET YOU KNOW that having been an Associate for over five years, you are eligible to be upgraded to the status of a Fellow of your great Institute.
You might probably be asking yourself 'what benefit do I derive from being a Fellow?' Well, the benefits are not exhaustive but permit me to state some of them:
With your upgrade to the status of a Fellow, you automatically become a Senior member of the Institute;
With your upgrade to the status of a Fellow, you will be identified and given due recognition at ALL Institute's functions;
With your upgrade to the status of a Fellow, you will also be privileged to special Seating as a senior member of the Institute at ALL functions; and
With your upgrade to the status of a Fellow, you will enjoy the unique privilege of endorsement/signing/refereeing of certain forms, attestations, applications, nominations to Council, etc;
All you need to do to enjoy all the above benefits is to apply for an upgrade to the Fellowship status now in order to facilitate the conferment of same on you at the 2023 Fellowship Conferment and Awards Nite where other distinguished professionals like you would be honoured.
Please, note also that as part of the application for fellowship upgrade, you will have to update your profile on the Institute's web portal: www.citn.org and your subscription must be paid up-to-date. The fees for the transfer and conferment of Fellowship status are N100,000.00 (One Hundred thousand naira only) payable online or through interswitch pay direct platform in any commercial bank in Nigeria. This covers the fellowship certificate, plaque
Kindly find below the detailed guidelines for your information and use.
We congratulate you in advance on this deserved honour and look forward to having your application so we could process it on time.
We thank you and assure you of our warmest regards always.
Yours faithfully,
The Chartered Institute of Taxation of Nigeria
Lanre Olasunkanmi Ph.D., FCTI
Registrar/Chief Executive
Application Guidelines for Transfer to Fellowship
The applicant must be a member of the Institute for a minimum period of 5 years;
The applicant must be a financial member of the Institute;
The applicant for Fellowship upgrade is online
Visit www.citn.org and login with your details
Click on "my membership"
Click on "apply for fellowship" and fill the application form
Download the attached district form;
The District form must be duly filled and signed by the respective district Chairman;
The completed District form must be scanned and uploaded to your profile following these steps:
Login to your profile;
Click on my profile;
Click on edit profile;
Click on 'other files' and upload.
Payment of N100,000 for application fee and transfer to fellowship conferment ceremony;
Payment can be made online or direct bank payment to UBA-1005809652 in favour of Chartered Institute of Taxation of Nigeria.
For further enquiries, please call Olatomiwa on 09065283814