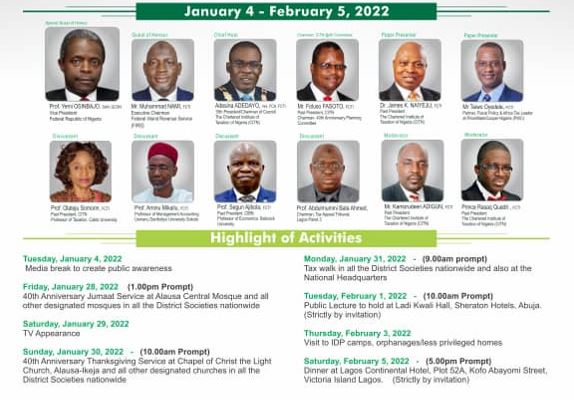 Dear Member,
On behalf of the President and Council of the Chartered Institute of Taxation of Nigeria (CITN), we are pleased to inform our esteemed members that our noble Institute will be celebrating its 40th Anniversary in 2022. To commemorate the Ruby Jubilee of the Institute, one week of activities have been put in place for celebration from Saturday, January 29 to Saturday, February 5, 2022.
The following activities have been earmarked to mark the occasion of the 40th Anniversary of the Institute:
| | | |
| --- | --- | --- |
| S/N | Activities | Date |
| 1 | Press Conference | Tuesday, January 4, 2022 |
| 2 | Press briefing | Saturday, January 29, 2022 |
| 3 | 40th Anniversary Thanksgiving Service at Chapel of Christ the Light Church, Alausa, Ikeja and other designated Churches in all District Societies | Sunday, January 30, 2022 |
| 4 | Tax Walk – all District Societies and National Headquarters | Monday, January 31, 2022 |
| 5 | Public Lecture to hold at Sheraton Hotels, Abuja | Tuesday, February 1, 2022 |
| 6 | Visit to IDP camps and Orphanage Homes | Thursday, February 3, 2022 |
| 7 | 40th Anniversary Jumaat Service at Alausa Central Mosque, Ikeja, and other designated Mosques in all District Societies | Friday, February 4, 2022 |
| 8 | Dinner at Lagos Continental Hotel, Victoria Island, Lagos | Saturday, February 5, 2022 |
We kindly implore you to participate fully in the programmes with your prayers, attendance and financial support towards the Anniversary programs. We urge members to volunteer to sponsor, in whole or in part, the Anniversary branded items such as bags, face caps, pens, jute bags, towels, jotters and other materials.
For financial donations, please pay into the Institute's account as detailed below and send details to oyeronke@citn.org or christy@citn.org:
Account name: Chartered Institute of Taxation of Nigeria
Wema Bank: 0120975789
NB:
To give back to the society and the less privileged, we implore members to bring their good old clothes, properly laundered and neatly packed, and also other valuable items or foodstuff, to the Tax Professionals' House for onward delivery to the beneficiaries.
Any review or amendment to the schedule of activities of the Anniversary in due course will be communicated to members accordingly.
For more information and advert placement in the Anniversary brochure, kindly contact Ronke Ojo on 08037848138 or Dayo Bakare on 08029119787
Long live CITN
Long live Nigeria
Signed
Adefisayo Awogbade, FCTI