The Council of the Institute has expressly approved the nomination of all the contestants for the 2023 Council Elections.
Members should note that payment of subscriptions and profile updates for the purpose of the 2023 Council election will be closed on Monday, May 15, 2023. Therefore, members who are yet to fulfil this obligation are advised to do so within this stipulated date as no extension would be granted.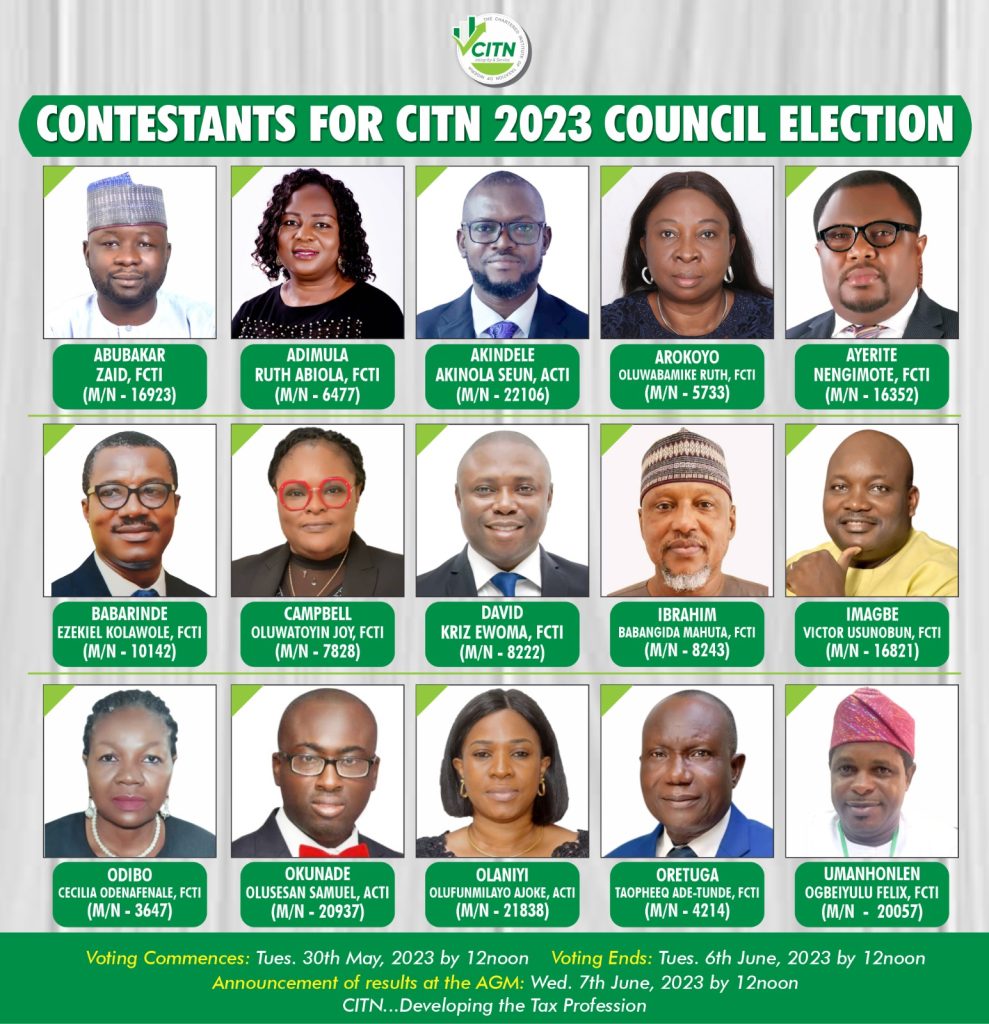 List of Contestants for the 2023 Council Election
ABUBAKAR ZAID, FCTI (M/N – 16923)
ADIMULA RUTH ABIOLA, FCTI (M/N – 6477)
AKINDELE AKINOLA SEUN, ACTI (M/N – 22106)
AROKOYO OLUWABAMIKE RUTH, FCTI (M/N – 5733)
AYERITE NENGIMOTE, FCTI (M/N – 16352)
BABARINDE EZEKIEL KOLAWOLE, FCTI (M/N – 10142)
CAMPBELL OLUWATOYIN JOY, FCTI (M/N – 7828)
DAVID KRIZ EWOMA, FCTI (M/N – 8222)
IBRAHIM BABANGIDA MAHUTA, FCTI (M/N – 8243)
IMAGBE VICTOR USUNOBUN, FCTI (M/N – 16821)
ODIBO CECILIA ODENAFENALE, FCTI (M/N – 3647)
OKUNADE OLUSESAN SAMUEL, ACTI (M/N – 20937)
OLANIYI OLUFUNMILAYO AJOKE, ACTI (M/N – 21838)
ORETUGA TAOPHEEQ ADE-TUNDE, FCTI (M/N – 4214)
UMANHONLEN OGBEIYULU FELIX, FCTI (M/N – 20057)
It is pertinent to inform members that compliance with the Institute's policy for nomination of candidates for Council election will be strictly taken into consideration with effect from year 2024.
a) Payment of subscription as and when due
b) The 35 credit hours per year and cumulative 105 credit hours for 3 years will be viewed with all seriousness.
c) Compulsory payment of MPTP fee will not be waived for the purpose of eligibility to vote and be voted for.
Please download the final list of members eligible to vote during the 2023 Council election. Kindly note that phone numbers and email addresses in the eligible voters list are encrypted for security and control purposes.
For more information contact Nas' 08088291588 and Samuel 07031220777
Best Regards
Lanre Olasunkanmi, Ph.D, FCTI
Registrar/Chief Executive