2022 ALL SECONDARY SCHOOL TAX QUIZ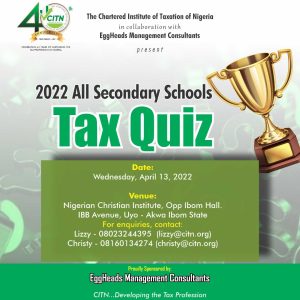 The Chartered Institute of Taxation of Nigeria with EggHeads Management Consultants – 2022 All Secondary School in Akwa Ibom State Tax Quiz
Venue: Nigerian Christian Institute, Opp Ibom hall, IBB Avenue, Uyo – Akwa Ibom State
The Chartered Institute of Taxation of Nigeria in collaboration with EggHead Management Consultants present 2022 All Secondary Schools in Akwa Ibom State Tax Quiz whose grand finale has been scheduled to hold on Wednesday, April 13, 2022.
Contestants are enjoined to register via https://bit.ly/citn_2022akwa-ibom_taxquiz
AIMS AND OBJECTIVES
a. Stimulate the interest of Secondary School students in Taxation as a subject of study;
b. Inspire young ones to consider pursuing career in taxation;
c. Provide a platform for intellectual interaction among students, tax practitioners and policy makers;
d. Participation of students at the National Tax Quiz Competition;
e. Improvement on the knowledge of Secondary School students in taxation;
f. Production of regional tax Ambassadors at the Secondary School level; and
g. Reduction of negative perceptions about tax payment which the young ones may have imbibed over time.
ELIGIBILITY
Entry is applicable to ONLY Pupils of Senior Secondary Schools: SS2 to SS3 in Akwa-Ibom State, Nigeria. Upon the completion and submission of the entry forms, shortlisted candidates will participate in the competition.
The competition will be in stages:
(1) Registration: Students should register via https://bit.ly/citn_2022akwa-ibom_taxquiz quiz on or before March 11, 2022
(ii) Stage one: Computer Based Test (CBT) for all registered eligible Contestants – March 18, 2022
(iii) Stage two: CBT elimination stage, to pick the best 9 Contestants – March 25, 2022
(iv) Stage three (Final): the 3 best Contestants would emerge the Winner, 1st Runner Up, and 2nd Runner Up.
Final round and presentation of prizes to winners will hold on the 13th of April, 2022
For further enquiries, please call Lizzy on 08023244395 or e-mail lizzy@citn.org